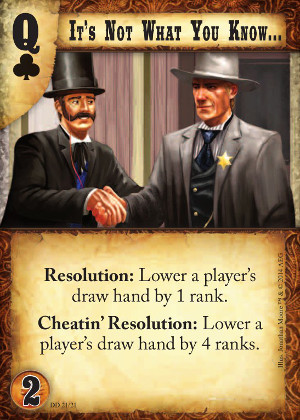 Also remember this card when it comes to lowball. It is absolutely fantastic for both 1) denying your opponent 2 GR, which is great by itself and 2) making sure you are the winner and will be making the first shootout action each shootout.
If you use this to win lowball, it essentially costs you zero GR (spend 2 for the card, get 2 from lowball), AND it denies your opponent 2 GR (along with giving you the first shootout action).
Just remember if you use this to lower your lowball hand rank, your new rank is considered the highest possible of that rank, so only do it if you'll be one rank below your opponent.