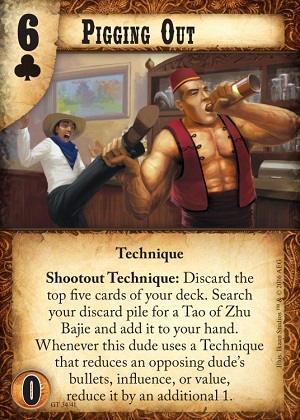 From gomorragazette.com
Nu_Fenix. This provides an interesting answer to the problem of discarding your techniques when you haven't got one to start a combo in a shootout. Additional reduction seems great, but without seeing it in action I wonder how much of a difference it will actually make.
Doomdog. 3/5. I've still not put much effort into the Zhu Bajie Tao as I much prefer Jade Rabbit if I'm going for Kung Fu. This looks like a nice support card for it, increasing the chances of obtaining a technique to start a combo. It also boosts the effectiveness of the Shotgun or Legendary Holster combos. Its value will be a problem for some of the low/mid value Kung Fu dudes, but with Carlton "Min" Rutherford joining the dudes at 7, Bai Yang Chen at 9, and He Fang at 10 you've got a few options for starters who don't have to worry about it.
Chefonk. 3/5. It replaces itself with a kung fu action from the Zhu Bajie Tao from your discard pile in addition to even more reduction. The Zhu Bajie is most efficient when trying to ace dudes with shotguns, so this really helps targeting some of those higher value dudes. Unfortunately, this is not the issue the Zhu Bajie Tao has to deal with. It depends on too many factors to reliably work. Sure, this helps in negating some of them, but overall this is just a nice little boost. The card itself is nice, but the tactic that it supports is not the easiest to set up. Sadly, it competes with Faster on the Draw, doing the same if not more without the hassle of having to play the right kung fu cards first.
Jhandy27. 3/5. So this is meant to replace Hot Lead Flyin' in my kung fu deck? Maybe. I can see it being useful in a shotgun Zhu Bajie deck to try bring down those pesky 6 value plus dudes that can be out of reach of your shotguns. I can see this being used, but not sure about replacing HLF as that card can be too strong to pass up sometimes.