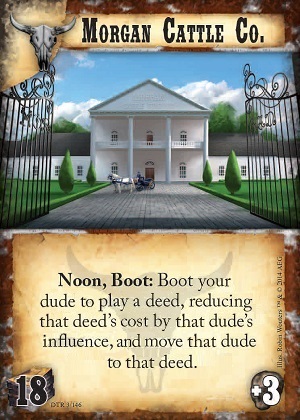 Errata wording - Effective October 21, 2017
Noon, Boot: Boot your dude to play a deed, reducing that deed's cost by that dude's influence, and move that dude to that deed.
The original wording of some base set cards were made prior to the cardinal rule that the requirement for the use of any card is in the first sentence. In looking at Morgan Cattle Company, and conferring with a member of the original base set Design Team, we discovered that the intent of the card was to make the dude vulnerable at the deed the dude is moving to. To violate this would go against the design intent of the card.