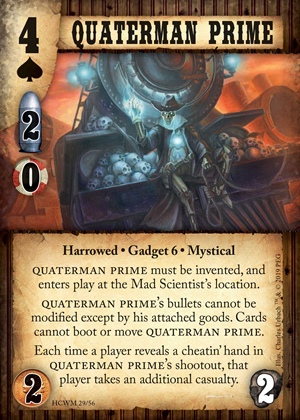 @db0 relevant fiction - Drew Beauman salvages QP:
dispatch.pineboxentertainment.com
This story was the result of a 'save or damn' storyline event series where players could vote to save or condemn dudes. Jessica Patchett (nee Sloane) was saved, and Drew Beauman was damned. Story decided that agent of Drew's fall was Quaterman who (now possessed) would influence Beauman to go rogue and enforce his own (Quaterman's) twisted sense of law and justice.
Basically Q got corrupted and is now possessed by a Manitou. He's more Lawful Neutral-->Evil vs. Lawful Good. As Carter notes, there is a definite Robocop vibe to our Metal Man.
The Harrowed bit as noted by Carter is an in-game mechanic to facilitate Q's autonomy and independence from Beauman and reflecting the possession by a Manitou who awakens Q's underlying sentience.