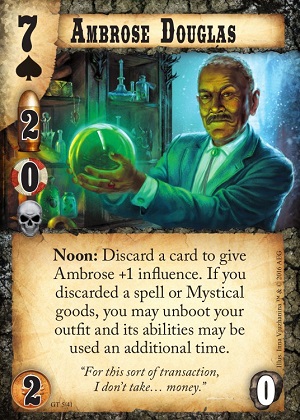 I want to love Ambrose. As a dedicated Fourth Ring Player, I was underwhelmed at him when it was realized that he was our only dude in Ghost Town.
Why?
Because Ambrose is amazing, but not for Fourth Ring. Sure, he helps Fourth Ring, his ability is good, he's an ok value, he has bullets, can have influence, and doesn't have an upkeep.
You know what else he's good in? What he's... actually better in?
Landslide.
He is everything that a landslide deck is after. Cheap, no upkeep, influence, card cycling. It kills me that they continue to support Landslide.