REGULATORS!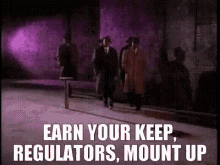 It was a clear black night, a clear white moon,
Jarrett B is on the streets, trying to consume
Some dudes for the eve, so I can get some control,
Just rollin' in my ride, chillin' all alone
The Plan
Use horses and Morgan Regulators to play chess. Use Run 'Em Down! and Ridden Down to isolate dudes and make 'em vulnerable. Use Peacemaker, Hiding in the Shadows, Hamshanks and Jasper Stone to build Jarrett into an untouchable monster. Parachute in some bodies if Jarrett didn't manage to bring any buddies with him. Win all the games ever.
The Event
This plan did not actually work, and I went 1-3. Turns out I'm just kinda bad at picking Stone targets, and at isolating dudes, but also some skilled (and lovely) opponents didn't break much of a sweat putting it down.
Round 1 - Loss
Russell was on the back foot for a bit in round one. His Slucksters were running low on cash. But then some brothers pulled some gats, so I said "I'm stuck."
Round 2 - Loss
Graham's Morgan Stables. Again, but much, much faster, some brothers pulled some gats, so I said "I'm stuck."
Round 3 - Loss
I managed to enact part of the plan against Andrew's Den of Thieves, and Jarrett managed to get a couple of scalps for Stone. A protracted town square stalemate ended abruptly when Morgan Lash made an appearance. They got guns to my head, I think I'm goin' down. I can't believe this happened in my hometown! If I had wings I would fly; let me contemplate. I look to the left, and I see three consecutive cheatin' five-of-a-kinds delivered by Barton Everest grind through my two This'll Hurt in the Mornin'.
Round 4 - Timed Win
Up against Stephen's Law Dogs in a tightly-fought contest for the wooden spoon. Hart's Tea Shoppe came through for me, booting Onward Christian Soldiers every time some brothers pulled some gats. The deciding shootout laughed at all attempts to call time, but eventually they were droppin' and yellin' and it was a tad bit late - Jarrett B and Travis Moone actually for once managed to regulate.
Tweakin' Onto a Brand New Level
Dave H frankly deserves co-author credit for any functional bits of the deck, after patiently coaxing me into playing some effective, affordable cards. There might be room for Espuelas and a few other tweaks to the hearts. Something to stop folks running away after the first round would be welcome, cos it's hard to get them alone. But after fiddling with this deck for ages, I'm switchin' my mind back into freak mode and playing something which gets full bullet bonuses instead.
Huge thanks to the Edinburgh lot for a great event! Full recognition can only be expressed through different 90s hip hop, though.